The function of cleats for young baseball players is to provide proper traction, avoid slipping, to give superior foot and ankle support and to aid in quick directional change. Improper footwear can lead to injury which is why we want our young players to have the proper equipment for their feet. To keep it simple, I have listed five of the best cleats for 7-8 year old players below.
This will most likely be a one-season purchase as shoe size changes rapidly at this age. All the cleats I have listed provide excellent support and good value. I regularly check the pricing of all items listed on this page and update them accordingly. I will often find better value with a different seller and change my listing to reflect the best value found today. I continually do comparisons, so you don't have to!
All cleats for this age group are made of rubber, metal cleats are not allowed. Ask your coach or league administrator if you have any questions regarding what type of cleat is required.
Keep in mind that when purchasing cleats, you want them to fit snug. When your child is in between sizes, opt for the smaller size. A loose shoe can lead to foot or ankle injury. Snug fitting shoes will stretch when worn, so don't be afraid to purchase a shoe that seems a little tight. You do not want to buy a shoe that is too small, be mindful of the difference between snug and too small. For more detailed information on baseball equipment purchasing, please read my article baseball gear for kids – making the right choice.
Remember, we're only trying to get one season out of these cleats so buy accordingly. I have listed low and moderately priced cleats so there should be something here that will meet nearly everyone's needs.
There is a shoe size chart by age at the bottom of this page which should be used as a guideline only
I have compared all the major baseball equipment sellers to find the best prices of the 5 baseball cleats I have listed below. These cleats are the most popular and highly rated. I check the prices regularly and continually update the page with the best value available.
If you have questions that have not been answered here, Please feel free to email me directly. You can reach me at Harley@baseballequipmentpro.com
.
Nike Kids' Vapor Ultrafly Keystone Baseball Cleats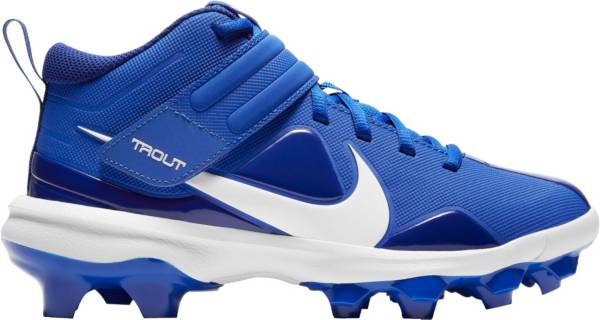 Featured size: Size 3

Other sizes available: 10K, 11K, 12K, 13K, 1.0, 1.5, 2.0, 2.5, 3.5, 4.0, 4.5, 5.0, 5.5 and 6.0)

Featured Color: Royal/White ( 7 other colors available)
The Nike Force Trout 6 Pro MCS combines stability and comfort for game-day performance. A durable molded upper has a midfoot strap to help secure your foot. An aggressive cleat pattern delivers multi-directional traction
DESIGN:
Durable synthetic leather upper gives you support and is easy to clean
Midfoot strap helps lock you in
Mesh tongue collar adds breathability
IN-SHOE COMFORT:
Full-length foam cushioning feels soft and comfortable
TRACTION & DURABILITY:
Podular outsole with studded TPU cleats delivers traction and durability designed to flex with your moves
Country of Origin : Imported

Brand : Nike
---
---
---
Under Armour Kids' Leadoff RM Baseball Cleats
Featured size: Size 3.0

Other sizes available: 10K, 11K, 12K, 13K, 1.0, 1.5, 2.0, 2.5, 3.5, 4.0, 4.5)

Featured Color: Black/White (Other colors available)
Have your young star tearing it up out there this season in the UA Leadoff RM. A synthetic leather upper provides them with instant comfort, durability and support while a mesh tongue improves breathability keeping their feet cool all game long. The Under Armour Leadoff baseball cleat has a full-length EVA midsole that offers maximum padding to help disperse cleat pressure evenly throughout the foot. A rubber molded outsole and cleat pattern delivers them unmatched grip and durability for top-notch performance on any field surfaces.
Synthetic leather upper provides exceptional step-in comfort with added durability & support
Mesh tongue for enhanced breathability to keep feet cool & dry all game long
Full-length EVA midsole for added comfort, cushioning that evenly distributes cleat pressure under the foot
Rubber molded cleats offer optimal traction & durability on all field surfaces
Weight: 8.5 oz
Lowest Price: $27.99 at Dick's Sporting Goods
---
---
---
Adidas Kids' Icon MD Baseball Cleats
Featured Size: Size 3

Other sizes available: 11K, 12K, 13K, 1, 1.5, 2, 2.5, 3.5 and 4)

Featured color: Black/White
Put a little more pop in your sluggers game this season in the Icon MD. A Nubuck upper offers them fantastic support and improved fit and added comfort. The Adidas® Icon MD baseball cleat has a padded midsole that provides them with maximum supportive comfort that lasts as long as they need it to. A molded rubber outsole delivers enhanced traction and speed on grass and dirt to help boost your stars performance on the diamond.
Premium nubuck upper for support and durability
Screen printed details across the upper provide additional abrasion protection
3/4 length EVA midsole provides cushion underfoot
Tricolor marbled molded rubber outsole provides solid traction on grass and dirt
Lowest Price: $18.97 at Dick's Sporting Goods
---
---
---
Easton Kids' Speed Elite RM Baseball Cleats
Featured Size: Size 3

Other sizes available: 10K, 11K, 12K, 13K, 1.0, 1.5, 2.0, 2.5, 3.5

Featured color: Black/Grey
Break the opponents' spirit without breaking the bank in the Speed Elite. Synthetic upper delivers durability, enhanced fit and support. The Easton® Speed Elite RM baseball cleat has an molded rubber outsole that ensures superior traction and speed on the diamond.
Synthetic no-sew upper offers a snug supportive fit and added durability
Molded rubber outsole delivers maximum traction and acceleration all over the field
Reasonable Price
Lowest Price: $10.97 at Dick's Sporting Goods
---
---
---
New Balance Kids' All-Star Baseball Cleats
Featured Size: Size 3

Other sizes available: 11K, 12K, 13K, 1.0, 1.5, 2.0, 2.5, 3.5, 4.0

Featured Color: Black/White
Put your future slugger on the field in the All-Star cleats, they are designed to mimic what they see their favorite players wearing in the pros. A synthetic and mesh upper combination provides your youngster with a lightweight breathable fit. The perforated saddle further improves air flow while locking their feet in to the cleat for enhanced support and stability. The New Balance® All-Star baseball cleat has a rubber molded outsole that delivers maximum traction and performance all over the diamond.
Synthetic and mesh upper offers a light and breathable fit
Perforated Saddle adds even more breathability while locking down the foot
Proven rubber molded plate improves traction and support for better play
Lowest Price: $29.99 at Dick's Sporting Goods
Shoe Size by Age
Shoe Size Age