The batting helmet is arguably the most important piece of equipment you will purchase for your young player. Here, we will look at how to choose the proper batting helmet for your 9-10 year old baseball player. Sizing is the most important aspect in selecting a batting helmet. I will explain how to determine the proper size in detail. I will also outline the selection and requirement for facemasks on helmets. Finally, I have listed seven of the best batting helmets for 9-10 year old players' with descriptions, images and pricing for each. I have listed options of models with the facemask already included as well as models with add-on facemasks..
Safety First:
Every helmet I have listed below meets NOCSAE® safety standards. This can be determined by the NOCSAE® label on the helmet
How to determine the proper size helmet for your child to wear:
Make sure you know the exact measurement of your childs head. Simply measure all the way around your players' head. With a soft tape measure, start at the forehead, just above the eyebrows. Measure all the way around the back of the head, and then back to the forehead. Make sure the tape is straight and sitting just above the ears. If you do not have a tape measure, use a string in the same manner and then measure the string.
The Batting helmet sizing guide is at the bottom of this page. You can also read more detailed information about proper baseball equipment sizing in my article Baseball gear for kids – Making the right choice.
Now that you know the exact measurement, select a helmet from the list below. You will notice that I have put the hat size in the heading for each helmet. After you select the helmet link, make sure you are ordering the correct size by verifying in the description that it fits your childs exact head measurement. Different manufacturers refer to each size differently. Some use T-ball, youth, junior, senior or adult as size categories, others do not have that many sizing groups or may use others. The key is to make sure the whatever the designation is, you make sure your childs proper hat size is listed in the product description.
For example: your childs head is 22 inches in diameter. Looking at the sizing chart below, you will see that they are a hat size 7. Regardless of what the manufacturer calls that size Junior, youth, one size fits most or even adult, you will select the helmet with size 7 listed in the helmet specifications description.
All the helmets I have listed for comparison below fit hat sizes from 6 3/8″ to 7 5/8″. Most will fit sizes 6 1/2″ – 7 1/2 inch sizes. If you need a smaller or larger size, look at the description of the helmet to make sure your child's size is included in the range.
Facemasks:
Batting helmet facemasks will be required for nearly all minor league division teams. Major division teams will usually leave it to the players' discretion. The Little League division chart by age is at the bottom of this page. Check with your league if you have any questions about which league or division your child should play in. You should also check with your team's coach or the league if you have any questions about their requirements for batting helmet facemasks.
I have listed facemasks that are specific to each helmet directly below each helmet description. If you are using a facemask, it will need to be ordered separately. There is a larger selection of helmets with facemasks already attached in the 7-8 year old gear tab (here). Almost all of these helmets would fit a 9-10 year old player. Again, just make sure your players' hat size is listed in the helmet description.
---
Please feel free to email me directly if you have specific questions that are not answered here. You can reach me at Harley@baseballequipmentpro.com
---
Please visit my other baseball equipment pages for 9-10 year old players by clicking the following links:
Disclosures:
This post contains affiliate links. An affiliate link means that I may earn a referral fee if you purchase products through one of my links, without any additional cost to you.  
I am a participant in the Amazon Services LLC Associates Program, an affiliate advertising program designed to provide a means for us to earn fees by linking to Amazon.com and affiliated sites.
---
Batting Helmet Recommendations:
---
Fits Hat Size: 6 3/4 and Under – Multiple Colors Available
Revitalized protective features and consistent breathability place the Under

Armour® Junior Converge Batting Helmet at the forefront of your player's game day essentials this season. Topped off with a satin finish for a bold, on-the-field look, this two-tone helmet is also outfitted with UA®'s HeatGear™ liner and an updated ABS shell for a premium balance of impact resistance and comfort.
Anodized Chrome finish features a non mirror surface but boasts head turning appearance
Standard OSFA helmet with a breathable, moisture wicking liner and pony-tail channel
Shell is constructed from durable ABS plastic
12 large vent holes for maximum breathability
Shell is designed to deflect balls upon impact
Provides extended cheek bone protection and coverage to protect a player's brain stem in the back of the neck
Meets NOCSAE Standards
Fits hat sizes 6 3/4″ & Under

---
---
---
Easton's® popular Z5™ has gotten an upgrade. The high impact resistant ABS shell has been engineered for maximum protection, while the padded dual-density foam liner works to absorb shock on impact. The Z5™ 2.0 features a BioDri™ padded inner liner to keep players' dry and cool, and the wrapped ear pads add extra comfort and prevent wear and tear throughout the season. The Z5™ 2.0 High Gloss Two-Tone has been updated with a fresh new-look, and meets the NOCSAE standard for all levels of play. It is available in Senior
and Junior sizes.
Layered foam liner delivers consistent shock protection without adding excess weight or discomfort
Utilizes BioDri™ padded liner to absorb moisture and keep you dry
Includes wrapped ear pads for reinforced durability and comfort
Two-tone high-gloss colorways
Fits hat sizes 6-1/2'' – 7-1/8''
Meets NOCSAE® standards

---
---
---
---
_____________________________________________________________________________________________________________________________
Get official Kids MLB team jerseys featuring authentic MLB team graphics and other great jerseys at MLBshop.com. We have  MLB jerseys for every fan in the styles and sizes you need from all the best brands. If you're looking for Kids  jerseys, MLBshop.com is what you've been looking for. As the official online store of Major League Baseball, we've got official MLB jerseys for every fan. Shop the widest range of style, color, and size you will find online. From replica jerseys and throwback  jerseys to Spring Training and  All Star jerseys, we have them all here. Shop all the top brands, get your favorite  players, or even get a custom  jersey for yourself or a loved one. Your source for MLB jerseys online is MLBshop.com.
_____________________________________________________________________________________________________________________________
---
---

Fits Hat Size: 6 1/2 – 7 1/2 (Junior) – Navy
This cooler batting helmet features a high Tech design. It features a double ear design that is NOCSAE approved. It comes standard with the Baseball face guard. The one size fits all design (6 1/2 – 7 1/2) has a pony tail channel for a comfortable fit.
Molded finish

Traditional coolflo design

Sizing: (6 1/2 – 7 1/2)

Meets nocsae standard

---
---
---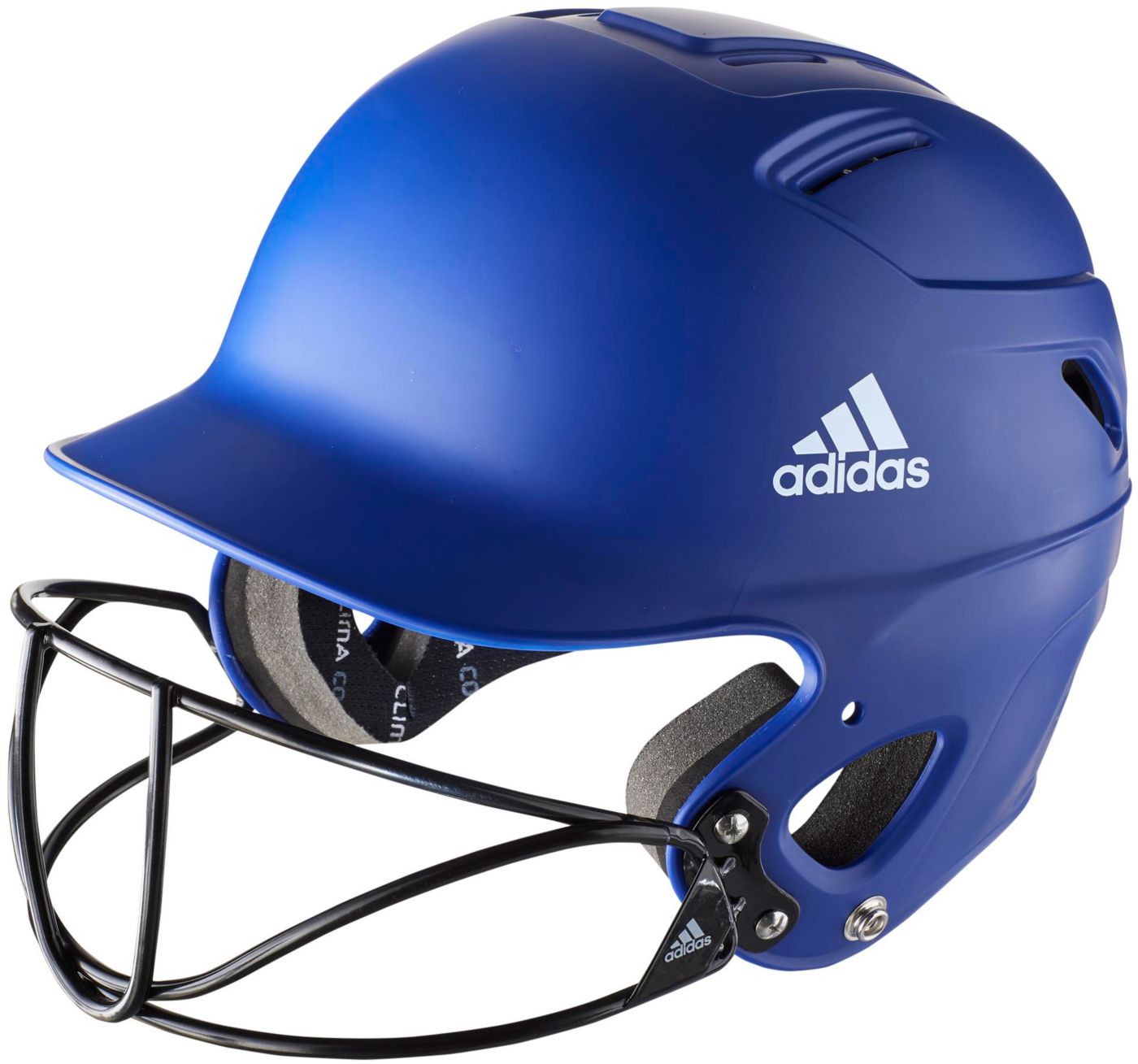 One Size Fits Most Helmet Fits Hat Size: 6 3/8 – 7 5/8
Red or Blue Colors Available
Designed with an updated facemask that significantly reduces its overall weight, the adidas® Incite Matte Helmet is designed to keep players safer in the box while maintaining consistent visibility when focusing on the next pitch.
PRODUCT FEATURES
Durable and lightweight facemask delivers extra protection at the plate
Turn-dial adjustment on the back of the helmet offers a secure, customized fit
13 ventilation ports throughout help cool air circulate for added breathability and comfort
climacool® technology conducts heat and sweat away from the skin to keep you cool
Pre-mounted snaps for optional chin strap attachment (chin strap not included)
Durable matte grip finish
ADDITIONAL DETAILS
Meets SEI® / NOCSAE® standards
Size: OSFM (fits hat sizes 6-3/8″ – 7-5/8″)
For baseball and softball
---
---
Fits Hat Size: 6 1/2 – 7 5/8 (One Size Fits Most) – Multiple Colors Available
---
PROTECTION AND COMFORT
Plastic shell with engineered ridges & grooves for added strength
Pre-mounted hardware for facemask
Antimicrobial treated liner helps remove unwanted bacteria & odor
---
---
---

Junior Helmet Fits Hat Size: 6 3/8 – 7 1/8
Senior Helmet Fits Hat Size: 6/7/8 – 7 5/8
– Multiple Colors Available
With its eye-catching finish and ultra-cushioned fit, the new Rawlings Velo™ series perfectly blends style and comfort. The Velo™ series has been constructed with 16 individual vents for optimal air flow and circulation allowing its wearer to stay cool and dry. Available in both Junior and Senior sizes.
IDEAL FOR TEEN AND YOUTH ATHLETES, this batting helmet meets all NOCSAE standards. The Heat Exchange vents rapidly circulates cooler, ambient air

OPTIMAL AIR FLOW AND CIRCULATION are provided by the strategically placed 16 individual vents, allowing the athlete to stay cool and dry

IMPROVED COMFORT AND FIT thanks to wrapped jaw pads

PROFESSIONAL ONE-TONE MATTE PAINT FINISH

MEETS NOCSAE CERTIFICATION UP TO 68 MPH

THIS JUNIOR HELMET IS DESIGNED TO FIT HAT SIZES 6 3/8 THROUGH 7 1/8

---
---
_____________________________________________________________________________________________________________________________

TRANSFORM YOUR WORKOUTS WITH GAME-CHANGING CARDIO

Game-changing cardio that will keep you coming back for more
Average expected delivery time is 1-2 weeks
Immersive 22" HD Touchscreen
4'x2' Compact Footprint
10+ disciplines across cycling, strength & more
Apple Watch and Bluetooth compatibility
In-workout metrics like heart rate, output, cadence and resistance
All-Access Membership sold separately
Get a $100 Dick's Gift Card* + Earn $40 in Rewards with Purchase! Pickup Only. Terms Apply The original experience loved by millions
---
_____________________________________________________________________________________________________________________________
---
---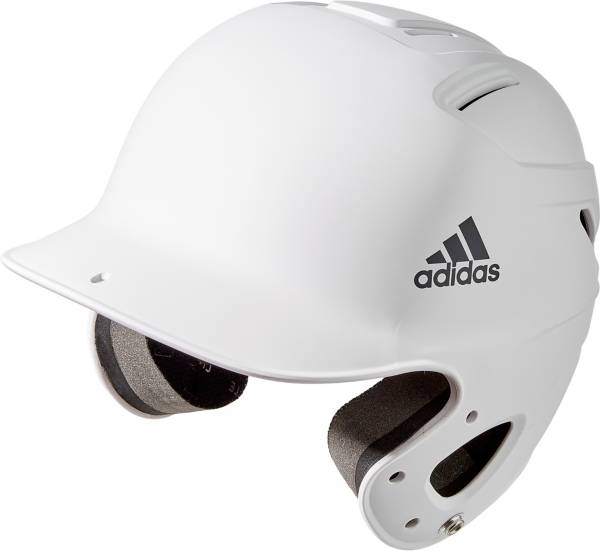 Fits Hat Size: 6 1/2 – 7 5/8
– 5 Colors Available
Hone in on the next pitch at the plate as you remain focused and confident when wearing the adidas® Junior Captain Batting Helmet. This helmet features a full ABS plastic shell with ventilation ports to accelerate airflow, and is also outfitted with climatelite® liner to lift heat and moisture away from your body to maximize comfort.
CONSISTENT PROTECTION AND COMFORT:
ABS Shell: Strong plastic exterior provides a durable layer of defense against impacts and abrasions
climalite® Liner: Conducts heat and sweat away from the skin to keep players cool and dry
13 ventilation ports keep air flowing for cooling comfort and focused performance
ADDITIONAL DETAILS:
Helmet meets SEI® / NOCSAE® standards
Finish: Matte
Size: Fits hat sizes: 6-1/2 – 7-1/8

Brand : adidas
---
---
---
---
Fits Hat Size: 6 3/4 and Under – Multiple Colors Available
Featuring a fabric-wrapped Charged Foam liner that absorbs impact, the Under Armour® Junior Heater Digi Camo Batting Helmet offers critical protection when you need it most.
Durable, impact-resistant ABS plastic shell provides critical protection
Charged Foam liner absorbs impact
Large ventilation ports and HeatGear® liner keeps players' cool and dry
Fabric-wrapped liner treated with antimicrobial to kill unwanted bacteria and odors
Size: Junior (fits hat sizes: 6-3/4 and under)

---
---
---
Batting Helmet Sizing Guide
.
Little League Divisions by Age
.