On this page, you will find six of the best baseball gloves for 7-8 Year Old players. These are the most popular and value oriented gloves for this age group. The goal in selecting a glove for a 7-8 year old player is to have quality equipment that will safely allow players to catch the ball and be comfortable for them to use. Each of the gloves listed can be ordered in left-hand throw (glove is worn on the right-hand) or right-hand throw (glove is worn on the left-hand). The link for each glove is for a right-hand throw. If you need a left-hand throw model, select that on the order page.
Parts of a baseball glove:
Most players in the 7-8 year old age group will do well with a 10.5-inch glove, some bigger players may want a larger glove, up to an 11.5 inch size. Some smaller players will be more comfortable with a 10-inch model. Most links for specific brands and models will give you an option to select a larger or smaller size. The baseball glove sizing guide is at the bottom of the page. You can also read more detailed information about proper baseball equipment sizing in my article Baseball gear for kids – Making the right choice.
---
Breaking a glove in:
The best way to break in a new glove is by using a glove mallet. One of the most functional and economic models is the Rawlings Glove Mallet  Using a mallet for a few minutes each day to simulate repeatedly catching a ball which will soften the leather and help form the pocket. 
Glove conditioner and an oversized ball and strap used repeatedly when the glove is not in use will form the pocket and soften the leather. Taking these steps will assure that your new glove is properly broken in. There are many products available. One of the best all-inclusive kits with all of the items necessary are included in the Rawlings Glove Break-in Kit 
---
Maintaining the glove:
To keep your glove clean and  prevent the leather from drying out, a glove conditioner should be used 4 times a season. Glove conditioners do not soften the leather. Catching a baseball (or using a mallet) softens the leather. A conditioner is used to maintain the glove for years of use. There are many glove conditioners on the market. One of the best I have found is         Rawlings Gold Glove Butter  which was designed for higher-end gloves but works well on any glove – old or new.
Making sure the glove is properly broken in prior to use will enhance the functionality and give the player greater confidence.
Most of the links have multiple sizing options so, if you are interested in a particular brand or model, you can select the size that is right for your child after you open the link. I have checked the prices at all major distributors, the prices I have listed is the lowest current price available. I check all pricing regularly to make sure that the best possible value is listed for you here.
Remember, these gloves are going to be used for a limited time. There is no advantage to buying a more expensive model. The goal is functionality and safety. Your players enjoyment of the game will be greatly enhanced if they have safe, functional and properly sized equipment.
7-8 year old players will likely play in a Little League® minor coach pitch or machine pitch division. The Little League® division chart by age is at the bottom of this page. Check with your league if you have any questions about which league or division your child should play in.
Please feel free to email me directly if you have specific questions that are not answered here. You can reach me at Harley@baseballequipmentpro.com
---
---
Please visit my other baseball equipment pages for 7-8 year old players by clicking the following links:
Disclosures:
This post contains affiliate links. An affiliate link means that I may earn a referral fee if you purchase products through one of my links, without any additional cost to you.  
I am a participant in the Amazon Services LLC Associates Program, an affiliate advertising program designed to provide a means for us to earn fees by linking to Amazon.com and affiliated sites.
---

Glove Recommendations:
---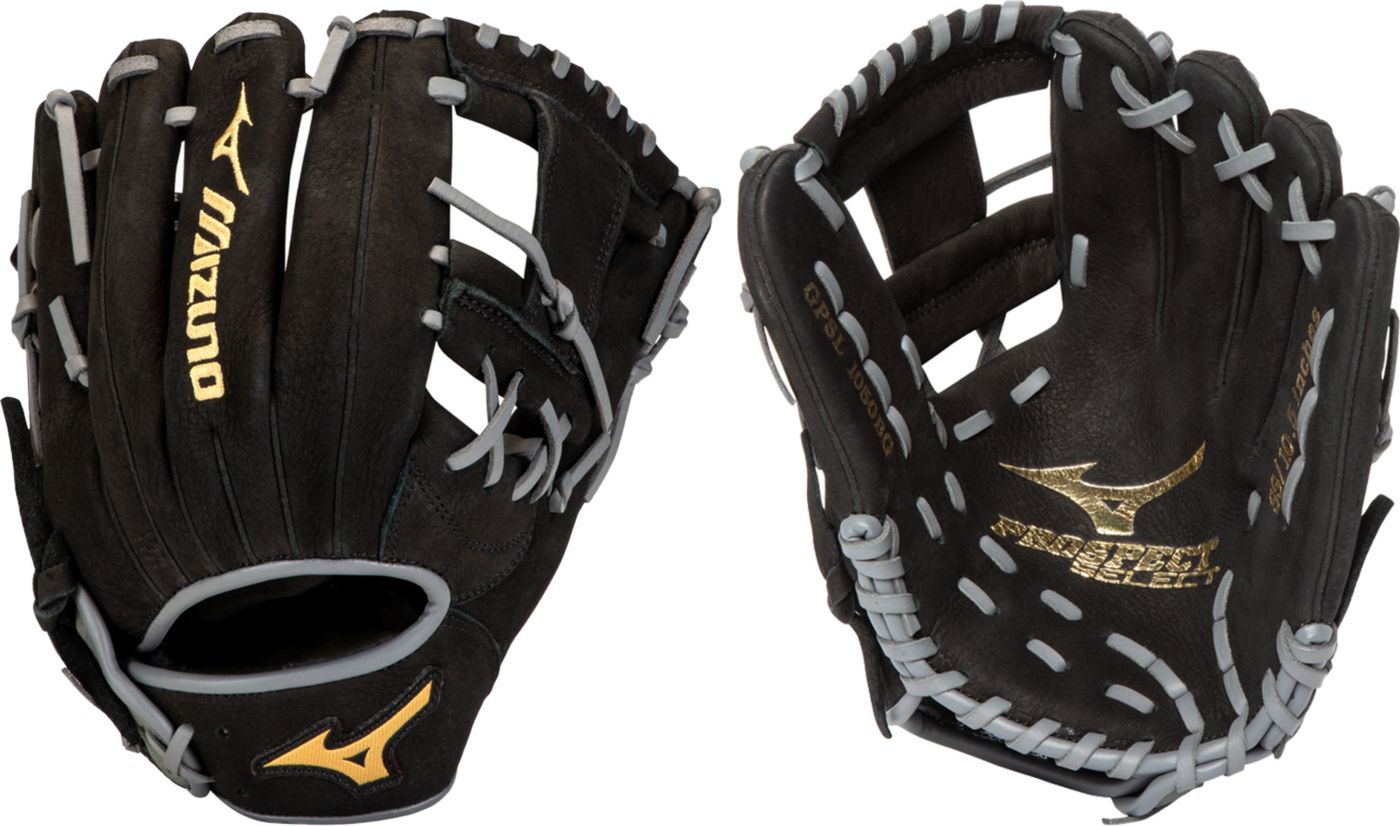 Featured size: 10.5 inch (11.5 inch size available)
Constructed with a soft and durable full-grain leather, the 2020 Mizuno® Youth Prospect Select Series Gloves deliver an easy-to-break-in design that allows them to secure the ball with confidence and consistency. This 10.5'' model features a traditional infield design, which utilizes a Deep III Web and a shallower pocket to make quick and precise transitions from your glove to your throwing hand.
Take the Next Step:
Full Grain Leather: Soft leather shell is easy to break in and boasts solid closure
Soft Flex: Give youth players a high-level feel and adds flexibility
ButterSoft Palm Liner: PU palm lining increases durability, overall feel, and comfort
Pro Pattern Inspired: Created for the best players in the world
Open Back Design: Provides a traditional look with a consistent fit
Country of Origin : Imported

Positions: Infield, Pitcher, Outfield
---
---
---
From performance integrations like its Sure-Catch Heel to its durable pigskin leather, the 2020 Rawlings® Youth Highlight Series Gloves have been strategically designed for the up-and-coming player to excel on the diamond and develop proper mechanics. This 11'' model is outfitted with a versatile Basket-Web®, and features a balanced pocket depth to make their mark at any position.
Create Your Highlight:
Soft pigskin leather shell offers premium durability
Cushioned Brushed Nylon finger back lining for a comfortable feel
Sure Catch heel design for easy close
Internal palm pad absorbs impact for consistent cushioning
Basket-Web® integration offers balanced performance that's ideal for infield and outfield positions
Conventional open back
Country of Origin : Imported
Positions: Infield, Pitcher, Outfield

---
---
---
Featured size: 11 inch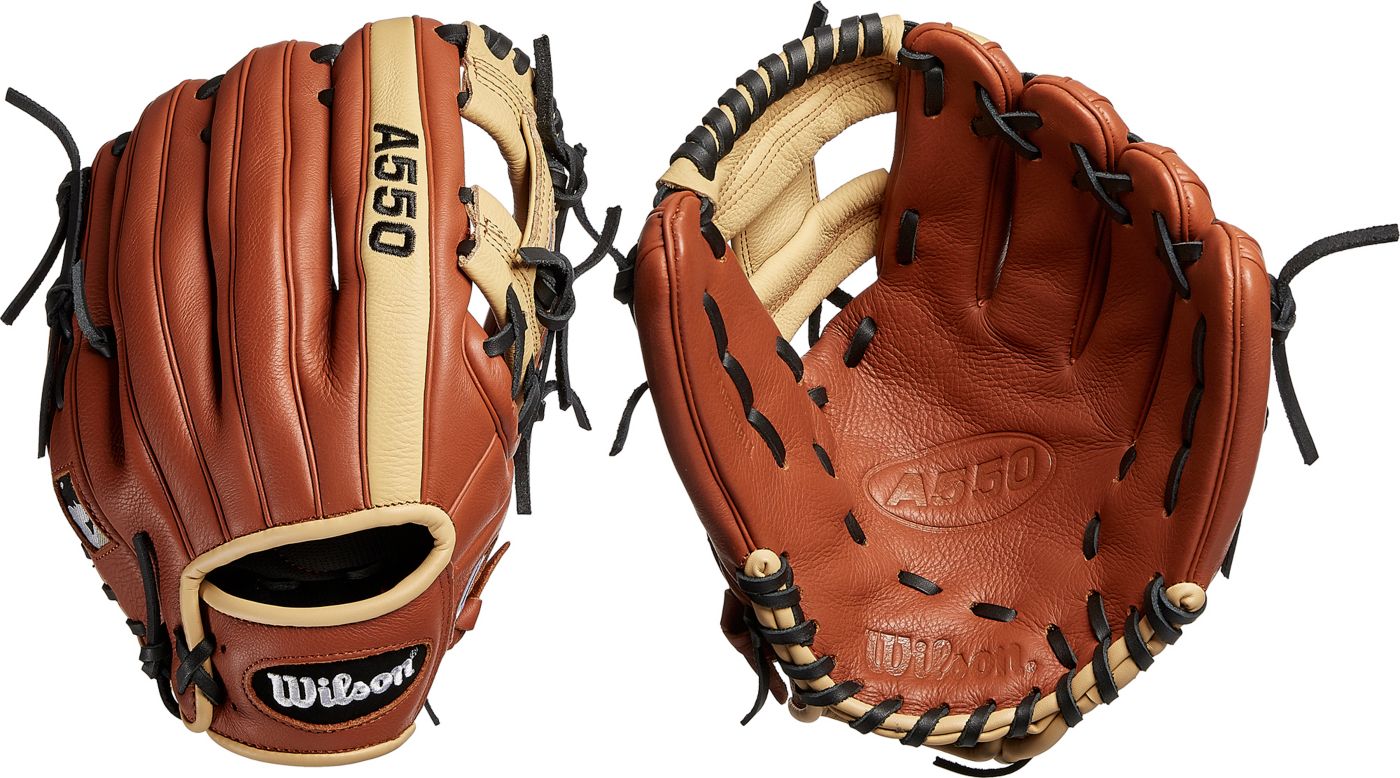 Prepared with youth-specific patterns that mimic the styles used by the pros, the 2020 Wilson A550™ Series Gloves put aspiring fielders on the fast track to master the fundamentals. Designed with an I-Web, this 11" model is preferred by most infielders to ensure they can seamlessly transition the ball to their throwing hand while not having to worry about buildup from dirt and debris.
Crafted for the Future:
Top-grain leather provides a flexible, ready-to-play feel without the weight
Rolled Dual Welting™: Strips of Pro Stock® leather,skived thin and rolled to provide quick break-in and lasting shape
Double palm construction keeps pocket stable and wrinkle free
Youth-specific patterns provide a better fit and feel for first-time fielders
Country of Origin : Imported

---
---
---
Featured Size 10 inch (Available in 11 inch size)
Give young kids a hand with the Easton's Z-Flex Youth gloves. These innovative new gloves feature a 2-1-1 three-finger design, which combines the pinky and ring fingers to increase leverage when closing the glove. The Z-Flex palm and Hog Hide pigskin leather combine to provide lightweight performance and additional flexibility, and the Lock Down adjustable wrist strap keeps it all in place. The 1000 model has a 10" utility pattern and deep traditional woven web for versatile performance all over the field.
Grab All Web
Lock Down Adjustable Wrist Strap
Perfect for Beginners
Ultra-Soft Leather
Youth Model
Z-Flex For Easy Closure

---
---
---
Featured size: 10.5 inch (Available in 10, 11 and 11.5 inch sizes)
When your young ballplayer is ready to go right now, the Genesis is waiting for them. Built specifically for youth players and featuring buffalo leather and performance mesh, the Genesis series has a traditional, yet game-ready feel right off the shelf.
Extra-soft materials for developing players
Lightweight feel
Game-ready off the shelf
Smaller wrist openings for optimal fit
10.5″ utility model
Closed back with Velcro strap
Checkmate web
---
---
---
Featured size: 10 inch (Available in 11 inch size)
New for 2019 and new from Franklin! The Field Master Series offers an extensive line of quality synthetic leather gloves for the recreational style of player. This well-designed glove utilizes a thicker, more durable synthetic material. Franklin is able to mimic the suppleness and durability of true leather to provide premium performance characteristics. This model in particular will help outfielders track down fly balls in the gap and be ready-to-play from day one.
DURABLILITY: Crafted of a thicker, premium synthetic leather for the recreational player that mimics the suppleness and durability of a true leather glove without the long break-in period
ADJUSTABLE: The Contour Fit System that provides customizable thumb adjustments
Features a hand-formed pocket allowing for easy scoop up or catch. Perfect for baseball, softball, and t-ball play
SIZE: 11″ ; All Positions ; Basket Web design provides increased flexibility for all positions of play
Right Hand Throw = Glove is worn on player's left hand

---
---
---
Baseball Glove Sizing Guide
Little League® divisions by Age