The function of cleats for young baseball players is to provide proper traction, avoid slipping, to give superior foot and ankle support and to aid in quick directional change. Improper footwear can lead to injury which is why we want our young players to have the proper equipment for their feet. To keep it simple, I have listed many of the best cleats for 7-8 year old players below.
This will most likely be a one-season purchase as shoe size changes rapidly at this age. All the cleats I have listed provide excellent support and good value. I regularly check the pricing of all items listed on this page and update them accordingly. I will often find better value with a different seller and change my listing to reflect the best value found today. I continually do comparisons, so you don't have to!
All cleats for this age group are made of rubber, metal cleats are not allowed. Ask your coach or league administrator if you have any questions regarding what type of cleat is required.
Keep in mind that when purchasing cleats, you want them to fit snug. When your child is in between sizes, opt for the smaller size. A loose shoe can lead to foot or ankle injury. Snug fitting shoes will stretch when worn, so don't be afraid to purchase a shoe that seems a little tight. You do not want to buy a shoe that is too small, be mindful of the difference between snug and too small. For more detailed information on baseball equipment purchasing, please read my article baseball gear for kids – making the right choice.
Remember, we're only trying to get one season out of these cleats so buy accordingly. I have listed low and moderately priced cleats so there should be something here that will meet nearly everyone's needs.
There is a shoe size chart by age at the bottom of this page which should be used as a guideline only
I have compared all the major baseball equipment sellers to find the best prices of the featured baseball cleats I have listed below. These cleats are the most popular and highly rated. I check the prices regularly and continually update the page with the best value available.
If you have questions that have not been answered here, Please feel free to email me directly. You can reach me at Harley@baseballequipmentpro.com
.
Please visit my other baseball equipment pages for 7-8 year old players by clicking the following links:
Disclosures:
This post contains affiliate links. An affiliate link means that I may earn a referral fee if you purchase products through one of my links, without any additional cost to you.  
I am a participant in the Amazon Services LLC Associates Program, an affiliate advertising program designed to provide a means for us to earn fees by linking to Amazon.com and affiliated sites.
---
---
Baseball Cleat Recommendations:
---

Featured size: Size 3.0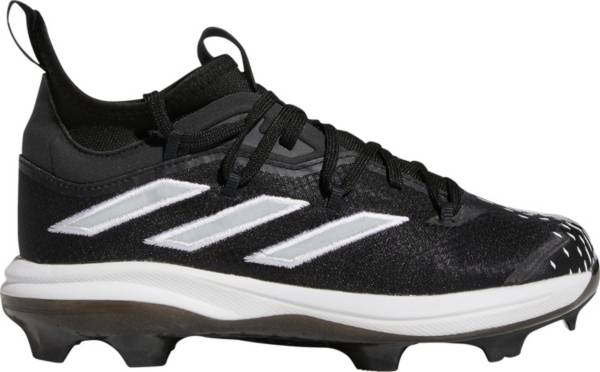 Other sizes available: 1.0, 1.5, 2.0, 2.5, 3.5, 4.0, 4.5, 5.0, 5.5 and 6.0)
Featured Color: BlackWhite  (White/Gold and White/Grey also available)
Help kids lock in and swing with total confidence. These cleats from adidas Baseball have an ultra-lightweight  Lightstrike midsole so kids can fly around the bases. The Stealtrax outsole plate features molded TPU cleats for elevated grip on dirt and grass. This product is made with recycled content as part of our ambition to end plastic waste. 20% of pieces used to make the upper are made with minimum 50% recycled content.
DESIGN:
LIGHTLOCK upper made of technical mono mesh with an engineered woven structure for lightweight lockdown and support
Made in part with recycled content generated from production waste, e.g. cutting scraps, and post-consumer household waste to avoid the larger environmental impact of producing virgin content
IN-SHOE COMFORT:
Lightstrike midsole helps you fly out of the box
DURABILITY & TRACTION:
TPU-cleated outsole provides outstanding grip and traction for enhanced on-field play

---
---
---

Featured size: Size 3.0
Other sizes available: 13K, 1.0, 1.5, 2.0, 2.5, 3.5, 4.0, 4.5, 5.0, 5.5 and 6.0)
Featured Color: Black/White and Pink/White
Step up to the plate in the most comfortable cleats in the ballpark. They've got a soft, padded collar, the right amount of cushioning, and cleats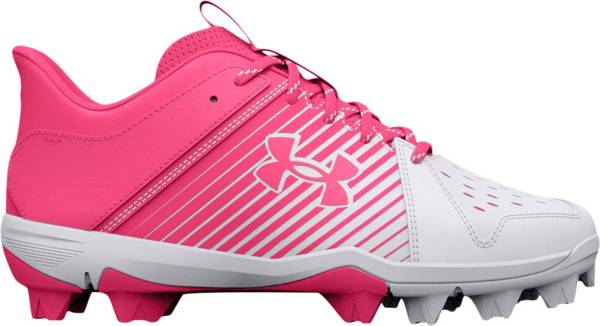 that give you optimum traction without any underfoot pressure.
Synthetic upper is lightweight & durable with perforations in the toe box for added breathability
Padded collar & heel construction for ultimate step-in comfort
Durable overlay on toe cap for added protection
IN-SHOE COMFORT:
Full-length EVA midsole for added comfort, cushioning that evenly distributes cleat pressure underfoot
DURABILITY & TRACTION:
Rubber molded cleats provide optimal traction and durability on all field surfaces
ADDITIONAL DETAILS:

---
---
---
---
---
---
_____________________________________________________________________________________________________________________________
Get official Kids MLB team jerseys featuring authentic MLB team graphics and other great jerseys at MLBshop.com. We have  MLB jerseys for every fan in the styles and sizes you need from all the best brands. If you're looking for Kids  jerseys, MLBshop.com is what you've been looking for. As the official online store of Major League Baseball, we've got official MLB jerseys for every fan. Shop the widest range of style, color, and size you will find online. From replica jerseys and throwback  jerseys to Spring Training and  All Star jerseys, we have them all here. Shop all the top brands, get your favorite  players, or even get a custom  jersey for yourself or a loved one. Your source for MLB jerseys online is MLBshop.com.
_____________________________________________________________________________________________________________________________
---
---

Featured size: Size 3.0
Other sizes available:  1.0, 1.5, 2.0, 2.5, 3.5, 4.0, 4.5, 5.0, 5.5 and 6.0)
Featured Color: Red/White/Blue
DESIGN:
Synthetic mesh upper is light, breathable and durable
Internal lateral TPU lacing system creates a lockdown fit and feel
IN-SHOE COMFORT:
Full-length EVA midsole for underfoot cushion and comfort
DURABILITY AND TRACTION:
Rubber molded cleats provide optimal traction and durability for all field surfaces

---
---
Featured size: Size 3.0
Other sizes available: 8K, 9K, 10K, 11K, 12K, 13K, 1.0, 1.5, 2.0, 2.5, 3.5, 4.0, 4.5, 5.0, 5.5 and 6.0)
Featured Color: Blue/White (2 other colors available)

For heavy hitters. These adidas baseball cleats give kids the speed and power to impact the game. They're built to last with a durable synthetic upper that has a supportive mid cut. A Bounce midsole provides lightweight cushioning so they stay comfortable through nine innings and beyond.
DESIGN:
Synthetic upper with supportive mid cut
IN-SHOE COMFORT:
Lightstrike midsole helps to enhance dynamic movement
DURABILITY & TRACTION:
Molded TPU cleats on the outsole elevate traction

Country of Origin : Imported

Brand : adidas

---
---

Featured size: Size 3.0
Other sizes available: 10K, 11K, 12K, 13K, 1.0, 1.5, 2.0, 2.5, 3.5, 4.0, 4.5, 5.0, 5.5 and 6.0)
Featured Color: Blue/White  (6 Other Colors also available)
DESIGN:
Molded synthetic upper offers lockdown that lasts, offering a lightweight, breathability
3/4-height collar adds ankle support without sacrificing mobility
Mesh on the tongue adds ventilation to keep your foot cool
IN-SHOE COMFORT:
Foam midsole provides a soft underfoot feel, so that you can cover more ground
DURABILITY & TRACTION:
Nike Fastflex outsole enhances flexibility and lets you move freely
8 full-length cleats in the forefoot and 4 cleats in the heel

---
---
---
---
---
---
---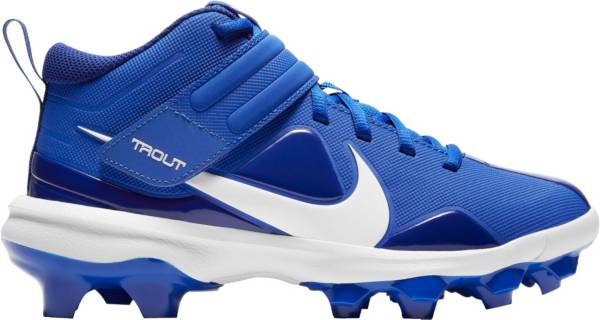 Featured size: Size 3

Other sizes available: 10K, 11K, 12K, 13K, 1.0, 1.5, 2.0, 2.5, 3.5, 4.0, 4.5, 5.0, 5.5 and 6.0)

Featured Color: Royal/White ( 7 other colors available)
The Nike Force Trout 6 Pro MCS combines stability and comfort for game-day performance. A durable molded upper has a midfoot strap to help secure your foot. An aggressive cleat pattern delivers multi-directional traction
DESIGN:
Durable synthetic leather upper gives you support and is easy to clean
Midfoot strap helps lock you in
Mesh tongue collar adds breathability
IN-SHOE COMFORT:
Full-length foam cushioning feels soft and comfortable
TRACTION & DURABILITY:
Podular outsole with studded TPU cleats delivers traction and durability designed to flex with your moves
Country of Origin : Imported

Brand : Nike

---
_____________________________________________________________________________________________________________________________

TRANSFORM YOUR WORKOUTS WITH GAME-CHANGING CARDIO

Game-changing cardio that will keep you coming back for more
Average expected delivery time is 1-2 weeks
Immersive 22" HD Touchscreen
4'x2' Compact Footprint
10+ disciplines across cycling, strength & more
Apple Watch and Bluetooth compatibility
In-workout metrics like heart rate, output, cadence and resistance
All-Access Membership sold separately
Get a $100 Dick's Gift Card* + Earn $40 in Rewards with Purchase! Pickup Only. Terms Apply The original experience loved by millions
---
_____________________________________________________________________________________________________________________________
---
---
Shoe Size by Age