---
Young players are starting to accumulate numerous pieces of equipment to carry from home to baseball field. A bat pack is a very useful piece of equipment to keep their gear organized and make it easier to transport. Not only does it keep your childs keeps the together (bats, gloves, helmets and cleats) but it also keeps the dirt and mud out of your car after the game. On this page, I have listed six of the best baseball bat packs for 9-10 year old players.
All of these bat backs (backpacks with sleeves for holding baseball bats) are high quality and offer exceptional value. You should be able to get a few years of use out of these bags, as the fit does not change as rapidly as cleat or helmet sizes.
I have listed the bat packs in price order lowest to highest. Pay close attention to the physical size of the bat pack. Some may be too large for a very small 9 year old. Most will be easily carried by 9 and 10 year old players.
You can also read more detailed information about purchasing baseball equipment in my article Baseball gear for kids – Making the right choice.
I have compared all the major baseball equipment sellers to find the best prices of the six bat packs I have listed below. These bat packs are the most popular and highly rated. I check the prices regularly and continually update the page with the best value available.
You can also review bat packs of varying sizes that I feature on the 7-8 year old page. Most of these bat packs would be appropriate for 9-10 year old players as well. Again, pay attention to the physical size of the pack listed in the description.
If you have questions that have not been answered here, Please feel free to email me directly. You can reach me at Harley@baseballequipmentpro.com
---
Please visit my other baseball equipment pages for 9-10 year old players by clicking the following links:
Disclosures:
This post contains affiliate links. An affiliate link means that I may earn a referral fee if you purchase products through one of my links, without any additional cost to you.  
I am a participant in the Amazon Services LLC Associates Program, an affiliate advertising program designed to provide a means for us to earn fees by linking to Amazon.com and affiliated sites.

Cleat Recommendations:
---
Featured Color: Dark Green (13 other colors available, prices vary)
The Voodoo Rebirth takes the most popular backpack in the game to another level with new neoprene bat sleeves and an area for customization. This bag has everything a ballplayer needs to get all of his gear to the field. It's large enough to fit a helmet, glove and cleats along with any extra equipment or personal items.
Large main compartment fits helmet, glove and gear
Molded barrel lock neoprene bat sleeves hold up to 2 bats
Fleece lined cell phone pocket
Vented shoe compartment
Removable decoration panel (Fits 12″ Hoop)
Durable J style fence hook
Composite treated waterproof base material
Padded shoulder straps and back paneling
13″L x 12″W x 20.5″H

---
---
---
Featured Color: Red (4 other colors available)
Water resistant, 600D polyester with inner lining
Two adjustable web straps with plastic clips to secure bats into two side pockets
Removable pocket for decoration
Front pouch holds a helmet or soccer ball
Comfortable padded shoulder straps
Fence hook
Size: Large 9L" x 18″W x 18″H
---
---
---
Featured Color: Navy/Red/White (4 other colors available)
Ensure they can comfortably load their game day essentials when they head to the ballpark in style with the Easton® Game Ready Bat Pack. Offering two sleeves on both sides to secure their bats and reinforced padding along the shoulders and back, this bat pack keeps their equipment organized while they remain supported during long road trips.
Heavy-Duty Construction:
600D polyester exterior minimizes abrasions for long-lasting protection
420D Ripstop reinforcements withstand potential tearing
Comfortable Carry, Strategic Compartments:
Main compartment provides enough storage space to fit their helmet and glove
Dual mesh pockets for water bottles or bat reinforcement
Front pocket isolates smaller accessories and valuables
Padded back and shoulder straps provide solid cushioning for long-lasting comfort
Additional Details:
Includes fence hook for dugout functionality
Dimensions: 16'' (H) x 12'' (W) x 8'' (D)
Brand : 

Easton Sports

---
---
---
Featured Color: Royal Blue ( 4 other colors available)
The Under Armour Hustle II Bat Pack features a H2O repellent, and UA Storm valuables pocket to protect your gear and valuables from the elements.
Advanced organization for 2 bats and a lot of gear
Built in fence hook for on field organization
Side water bottle pocket
Top loaded helmet/mitt compartment
HeatGear ergonomic shoulder straps
HeatGear padded back panel
UA Storm treated to protect your gear from the elements
Front H2O repellent UA Storm valuables pocket
Team embroidery locations
12″x 8″x 19″

---
---
---
Previous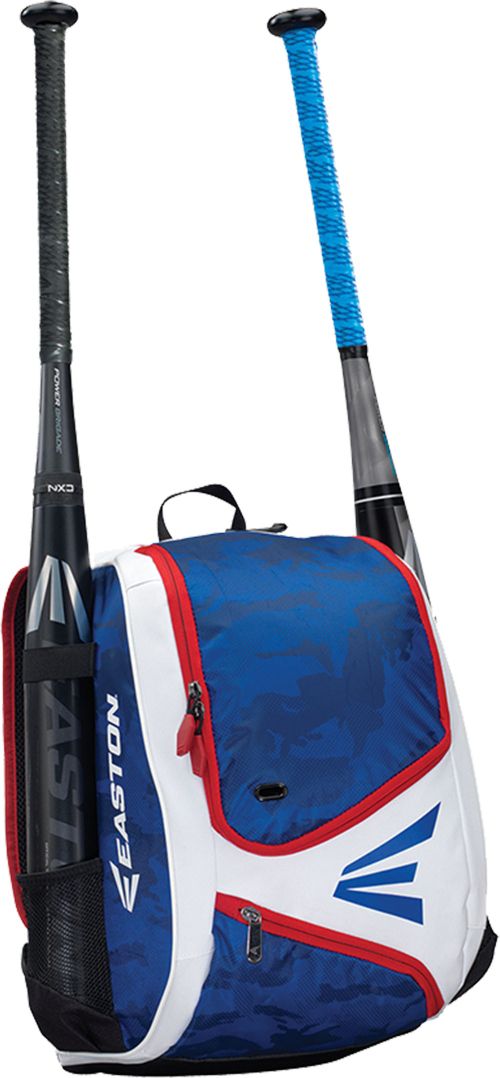 Next
Featured Color: Orange (6 other colors available)
The all new Rawlings R500 Players Backpack is the perfect backpack to get your from game to game. The Rawlings R500 holds up to two bats and has a main compartment that can turn into a game time shelf to allow easy access during games.
Holds two bats
Customizable top valet tray
Main compartment coverts to a game time shelf
Fence hook
Velcro strip for external batting glove storage
Easy to clean tarpaulin bottom material
17.5″ H x 15.5″ W x 8.5″ D

---
---
---
Featured color: Forest Green (Five other colors available)
This backpack features waterproof 600D polyester with inner lining to keep your gear protected and dry. It also has two adjustable web straps with plastic clips to keep your bats securely in place. There is also a removable pocket for utility and decoration.
Holds glove, shoes and plenty of gear
Water resistant, 600D polyester with inner lining
Two adjustable web straps with plastic clips to secure bats into two side pockets Removable pocket for decoration
Front pouch holds a helmet or soccer ball
Comfortable padded shoulder straps
Fence hook
Dimensions: 9″D x 18″W x 18″H